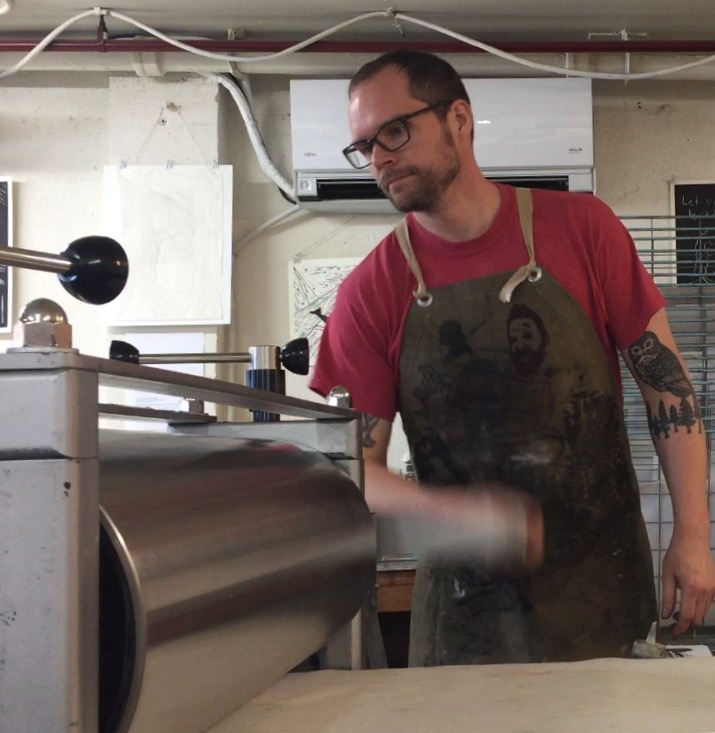 My work is driven by my love of world history, ancient folklore, pop culture, and the natural splendors we all share around Portland. My prints can take you to two familiar places at once, or across the sea far back in time. I am attracted to creating a visual graphic punch with intricate etched copperplate lines, strong wood or linoleum relief contrasts and color reductions. I appreciate images that tell a story to you or let you make one up by adding a bit of wonder to a simple subject.
solo and group exhibitions:
Spring 2018 Solo show , Beeswing Cafe, Portland, Or
Spring 2018 Group show, Modes: Making Art, Jazz, And History, Josephy Center, Joseph ,Or (curated by Jane Pagliarulo)
Fall 2018 Group show, Day Of The Dead , Guardino Gallery Portland, Or (Owner/Curator Donna Guardino)
October 2018 solo show, Crema Bakery, SE 28th and Ankeny, Portland Or
January 2019 group show, Group Printmakers Show, Guardino Gallery, Portland, Or (Curated by Gail Owen)
April 2019 PRINT ARTS NORTHWEST group show, Olympic Mills Building, Portland, Or
July 2019 Group exhibition , West Coast Woodcuts: Relief Prints By Regional Artists, Maryhill Museum of Art, Goldendale, Wa. (curated by Steve Grafe)
August 2019 Solo Show, Travel Portland Main Office, Portland, Or
October 2019 group exhibition, Di Carta/ PAPERMADE: Biennial Works On Paper exhibition. Pallazzo Fogazzaro Gallery, Schio, Italy (curated by Valeria Bertesina)
Juried Shows and Exhibitions:
November 2018 group show, Pressing Matters 2018 juried exhibition, Emerald art Center Springfield,Or ( Juror: Margaret Prentice )
December 2018 group show, Ink + Print: West Coast Juried Printmaking Exhibition , Coos Art Museum Coos Bay, Or (Juror: Nicole Pietrantoni )
December 2018 group show, A Generous Kingdom juried show, Verum Ultimum Gallery, Portland, Or (owner/ curator Jennifer G Cutshall)
May 2019 group Show, The Umpqua Valley Arts Association Artworks NW juried show, Roseburg, Or (juror: Danielle Knapp, McCosh Curator at the Jordan Schnitzer Museum of Art )
September 2019 The Boston Printmakers 2019 North American Print Biennial juried show , Cambridge MA (juror: Shelley R. Langdale , President of the Print Council of America and the Park Family Associate Curator of Prints and Drawings at the Philadelphia Museum of Art)
permanent collections:
Maryhill Museum of Art, Goldendale, WA
Coos Art Museum, Coos Bay, OR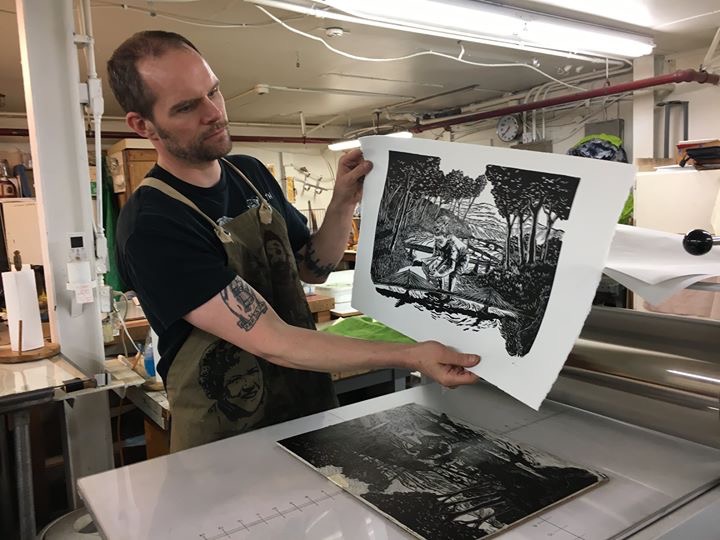 Chris Darr is the son of an artist and screen printer, raised with pencils and paper in a home of creativity. A youth immersed in his father's endless books of artistic techniques and the worlds of Goya, Lautrec, Warhol, Homer, Rembrandt, Whistler, Mucha, et al., left deep impressions in him.
After pursuing a culinary career for 20 years he one day made a relief print and never looked back. Despite not coming from a traditional art background he retains a quenchless thirst for creating more and learning new methods and techniques of printmaking. He lives and prints in Portland.